Good day,
We hope everyone has had a successful 2019 and engaging with clients for 2020 planning over the past few weeks. This is the Week In Review including updates at Portformer.
Webinar
Here is the replay link to our webinar from 12/17/2019:
"Finding Actively Managed Alternatives to ETFs That Don't Statistically Stink"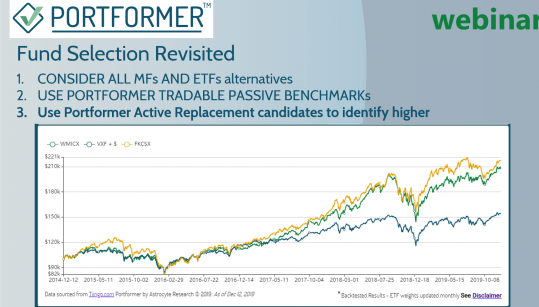 Please mark your calendar for next webinar which is scheduled for January 7, 2020 at 2:00 pm ET / 11:00 am PT.
Popular Posts:
Here are the posts most read for this week on Portformer.com:
Question of the Week
We look forward to seeing you as we're attending the Inside ETFs conference in Hollywood, FL for January 26-29, 2020.
Inside ETFs Conference | Portformer
For those interested, we are happy to offer coupons for a 25% professional discount on the registration fee. As always, please contact us via our chatbox at Portformer, reply to this email or contact John at 857.201.0196.
What we're Reading
A snapshot of the best articles compiled and read by our team for this week:
Advisor and Investor Thoughts about Fees An excellent commentary through surveys on working with an advisor, client feelings toward fees and how advisors communicate with a client.
Don't Just Use Technology – Embrace It A thought-provoking article written for advisors on how to approach technology investments and implementation.
Financial Advisors Hire Young Talent For Their Business to Thrive Focus on financial advisors are hiring and recruiting talent to support their business.
Investment Fees — Some Think They Don't Pay Any Article on investor awareness and education around the fees they pay and the opportunity for increased education.
We're excited for 2020 and always available to support your investment process whether its technology benchmarking or growth planning as we know that it's a continuous event. Let us help you keep it moving forward !
Please share with a colleague who would benefit from joining our community or you can find us on social media at Twitter @portformer and LinkedIn at Portformer.
Wishing you a safe and exceptional holiday week,
Sean Kruzel and the Portformer™ Team